Lister employs staff to provide the housing service and run the office based in the heart of our housing. They are responsible, through the CEO, to the Management Committee.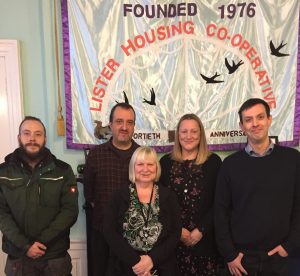 The Lister Staff Team– Sam, Mark, Elaine, Fiona, John
Our staff work hard to provide a good service to tenants and other customers. Please try and work with them to resolve any queries or problems – they are there to help.
Chief Executive Officer (CEO)
John Rankin
Our newest recruit! An experienced housing professional, who joins with many years of management experience.
Housing Officer
Mark Stolarek
An experienced professional with over 25 years of service in local housing providers.
Housing Assistant
Fiona Dodds
Fiona comes with lots of experience from previous jobs in housing.
Office Assistant
Elaine Coutts
Our front-line expert who is here to help.
Gardener/Handyperson/Staircleaner
Sam McGillivray
Our hard-working hands-on man with good gardening knowledge for all these important tasks.